nips on my fins from orca's teeth
THE BEST DEFENCE IS ATTACK

Not only is this parcel (it's not a package it's a series of related objects held within a common hardback cover) worth the effort for its reworking of an original idea, it opens up a whole new window on the things that contributed to the original Skull Orchard CD.
In recent years Jon Langford has found it easier to expound on his association with Newport and South Wales – his regular performances there as a solo artist, surrounded by friends bear this out.  But here we have what is perhaps his most personal exposé of that relationship.  Not only does he include family pictures taken by his father, Denis (mainly taken to fill up rolls ready to be taken for developing) but also a wonderful South Wales Alphabet written by Jon's elder brother, Sci-Fi author and critic, David Langford, alongside newly created artwork related to the songs and South Wales.
Add this to a reworking of the original album which now includes extra tracks and the Burlington Welsh Male Chorus plus Jon's first ever published story: "Inside The Whale" and you have an extensive piece of work.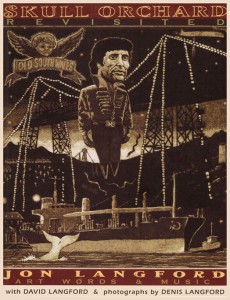 Because there is more than one thing going on here you have to take them as individual works and at the same time as part of the whole.  David's reliably witty Alphabet puts many things in context whilst Jon's music paves the way for the artworks in the book, as well as expounding on his roots in South Wales.
The addition of the choir extends the songs in a way which wasn't possible when they were first seeing light in 1998.  And then of course there is the artwork.
The book contains a detail of Jon's painting linked directly to the songs and to South Wales, as ever in the unique form that Jon has doggedly developed over the past thirty years and which now mean that he is recognised for this unique, engaging style.  He belongs to a group of contemporary artists who provide you with images and words but at the same time ask you what you see in their work.
IT WAS THE DOLPHIN WHO TOLD ME

The Story, "Inside The Whale" although a cautionary tale, dwells heavily on an isolation.  The thought of trudging around the world's oceans for nearly two hundred years weighs heavily for Flipper even though she believes in "thinking up new ways always, new directions" and "firing up the dry bone".  It also includes thinly disguised links to the music and to Jon's admitted musical influences – A Whiter Shade of Whale indeed!
The Burlington Male Voice choir mirror Jon's isolation from his homeland.  Whatever it is that they do now in far off America, their link to the place of their birth is strong.  As Jon describes them they are: "stout and grey…… mostly expats – romantic and economic exiles from grim post 60's Britain"  But they add to the story too and not only musically.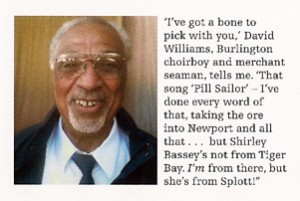 AN HEROIC BUT FLAWED LEADER

Jon clearly found kindred spirits (literally as far as the spirits seemed to go) with the BMC, his pal Ralph Mulcahy has a lot to answer for.  What Jon started with his original album was an unwitting invitation for a Welsh male voice choir to join in and, a decade later, they do just that.
The reworking of Youghal  and Trap Door put the songs in a new context  worthy of Pequod's crew.  One only wonders what they could have produced if Jon's desire to stage his musical, The Death Of Moby Dick had ever come to fruition. Frightening.
The choir sound like they were always there in the original recording, stoking up The Last Count with their rendition of "Aladdin" and its chorus, a chant any merchant seaman docking in Pill would have known, a chant Cyril Tawney would have been proud of:
Oh how happy us would be,
when we goes back to the West Country
Where the oggiz grow on trees,
cor bugger janner.
GREEN VALLEYS AND A LIFE ON THE DOLE
Brother David's Alpahabet is for me the most fascinating collection of reminisence and demystification I've come across for some time.  I now know what rhymes with Orange (not a lot to be truthful) as well as an insight into author Arthur Machen.  Highlight of the Alphabet is "E for Experiments" something every schoolboy should consider when thinking of dropping O level chemistry.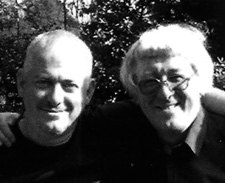 The paintings although linking Jon directly to his new home in the USA bely the fact that, like many of us returning to our home ground, going back there is still exciting.  The Transporter Bridge, the Docks, schoool, friends, family and just "being Newport" are imprinted on Jon's psyche in a way that his sejour in Leeds can never compete with.
The list of collaborators on this album is as long as your arm. Mekons spotters will find Ms Timms reading the news, Rico, Lou and Steve floating about in the mix alongside South Wales stalwarts Julian Hayman, Carlton B Morgan, Mark Price,  Dean Crindau and Guto Dafis on the newly added song "Solomon Jones".
We know Jon is always been the first person to say let's do this together, his collaborations are legendary but this book is a collaboration not only with his brother, nay his family but with his roots and as such it should be celebrated. Chicago may be where Jon's home is but this book suggests Newport and South Wales is where his heart is.
Skull Orchard is available now from Verse Chorus Press and from the sort of place you'd offer your custom to, safe in the knowledge that they were fine people like Jumbo Records!