Sep 14 2011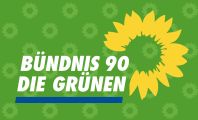 Bei den Kommunalwahlen im Emsland konnten die GRÜNEN ihren Stimmenanteil deutlich verbessern, z.T. verdoppeln oder verdreifachen. So kam es, wie es kommen musste: Weil der Stimmenanteil in meiner Heimatgemeinde ganz positiv ausfiel zog auch ich als fünftes Mitglied in den Kreistag ein. Neben den Städten Lingen, Meppen und Papenburg konnte sich unser Wahlbezirk als einziger der sog. Umlandgemeinden mit einem Abgeordneten durchsetzen.
Ob ich in meinem Blog auch über meine politische Arbeit berichten werde, weiß ich noch nicht. Schwerpunkt wird hier auf jeden Fall die Musik bleiben. Ich bin gespannt.
For my English and American friends: This year's election made me a member of the county council in my home region Emsland. I'm part of the Green Party group in the newly elected council. It was (to be honest) a surprise for me too.