Okt 06 2010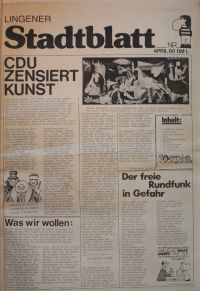 Hier wird eine Webpräsenz des Lingener Stadtblatts entstehen. Googelt man diesen Begriff, so findet man … nichts. Das sollte sich ändern lassen. Denn für eine kurze Zeit war das Stadtblatt ein durchaus belebendes Element in der politischen Szenerie Lingens.  Der Begriff 'politisch' ist kein Versehen an dieser Stelle, denn wir verstanden uns von Anfang an nicht als 'neutrale Presseinstanz' sondern als Gegensatz zur CDU-freundlichen Lingener Tagespost. Dort fand Gegenöffentlichkeit nicht statt. Und wo die Tagespost Dinge verschwieg, Leserbriefe nicht veröffentlichte, Termine nicht abdruckte, wollten wir etwas entgegensetzen.
Im Herbst 1979 setzten sich daher einige Leute aus den Bereichen Jusos, Bürgerinitiative etc. zusammen und fingen an zu planen. Das Ergebnis waren 24 (?) Ausgaben, die immer wieder für Gesprächsstoff in der Stadt sorgen sollten. Nach diesen 24 Ausgaben ging es durchaus noch weiter, allerdings mit anderen Leuten und zum Teil auch anderer Grundlage. Da wären dann aber andere Personen zuständig.
Wie ich die Präsenz gestalte, ist mir noch nicht ganz klar. Erst einmal werde ich die Blätter fotografieren und als PDF-Datei hochladen. Möglicherweise werd ich auch die Qualität verbessern können. Dann wird man weitersehen. Es könnte ja auch zu einem Gemeinschaftsprojekt werden - wie es das Stadtblatt eins war.
For my English speaking friends:
From April 1980 till July 1982 I was involved in an alternative project: We wanted to launch and establish a newspaper which should cover all those little scandals etc. that the conservative newspaper in our town Lingen wanted to be kept under the blanket.
These 24 issues I will put up as pdf-files in the near future. There won't be a translation, so do what you have to do …